Hohem Releases "hohem Go" Auto Face Tracking Tripod
Shenzhen, China, Hohem is a renowned innovator in gimbal stabilizers. It specializes in intelligent imaging tech and has provided revolutionary smart stabilizer products and solutions for decades. Hohem has the world's lightest 3-axis smartphone gimbal and takes 70% market share in action camera stabilizers. This month, hohem launched "hohem Go" Auto Face Tracking Tripod.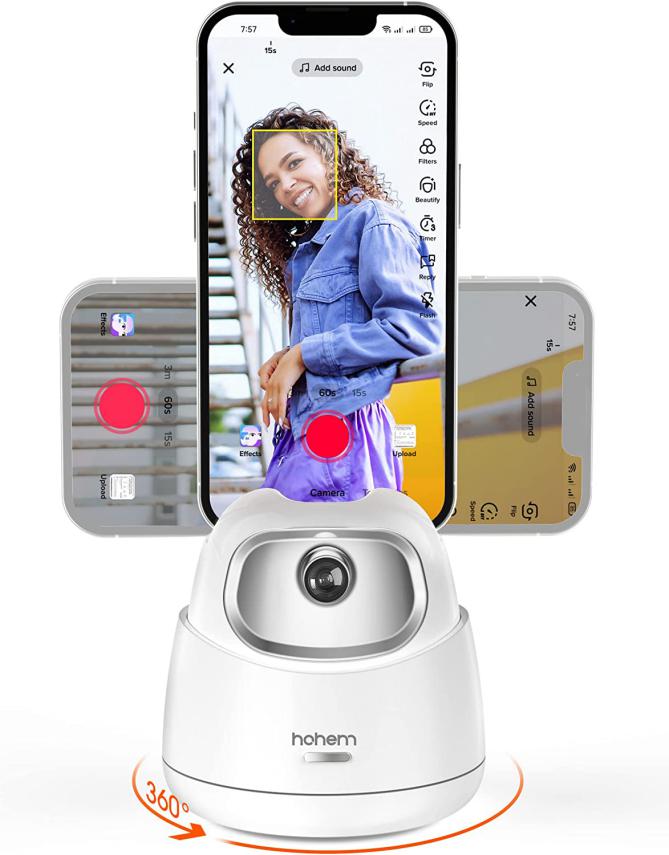 Hohem Go Has Face Tracking Using Smooth Intelligent AI
Using a sophisticated algorithm developed by hohem, this automatic face-tracking tripod recognizes and tracks users' face in a quiet and stable manner. This sophisticated tracking phone holder monitors users' motions in front of the display and rotates 360 degrees to ensure that users are always in the frame.
Hohem Go has a Tracking of 2-Axis 360° Rotation
Hohem Go 360-degree selfie stand offers a large tracking area to enable effective and precise monitoring. This tracking tripod's horizontal and vertical tracking angle, which are respectively 360° and 30°, almost cover all shooting angles. Additionally, this 360 auto tracking phone holder has a 1/4" standard screw hole at the bottom so the user can connect it to a tripod for more flexible shooting, such as filming a dance lesson video. Hohem Go has multiple applications including selfies, video conferences, vlogs, dance teaching video or just recording one's life.
Hohem Go Frees Users' Hands by Gesture Control
Hohem GO auto tracking stand uses gesture control to free users' hands during video recording for more convenience. Use the "OK" gesture to turn on the tracking and the "PALM" gesture to turn it off.
Hohem Go Requires No Bluetooth or App
Hohem smart phone holder with a built-in camera facilitates a rapid start and monitors the user's face without an app or bluetooth connection to preserve privacy
Hohem Go Has 2000mAh Battery for 10H Operation
Hohem Go face tracking tripod has a built-in 2000mAh large-capacity battery that enables 2 hours of quick charging and up to 10 hours of operation on a single full charge. Smart lights on the tripod clearly shows the charging state.
Media Contact
Company Name: Hohem
Contact Person: Blake Hu
Email: blake.hu@hohem.com
Phone:+86-755-86573216
Country: United States
Website: https://www.hohem.com/
Disclaimer: This article is reproduced from other media. The purpose of reprinting is to convey more information. It does not mean that this website agrees with its views and is responsible for its authenticity, and does not bear any legal responsibility. All resources on this site are collected on the Internet. The purpose of sharing is for everyone's learning and reference only. If there is copyright or intellectual property infringement, please leave us a message.